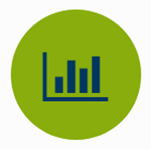 In the new era of big data, businesses are often flooded with information overload. Searchlight is here to help with a full range of data analytics. From data collection, cleaning and filtering to data reporting, alerting, and visualization, we'll dig down into your data to uncover useful information and patterns to improve your decision making.
Our services include a variety of statistical and computational methods to calculate data summaries and forecasts as well as the generation of custom charts and tables. We are also experienced in geographic data visualization techniques using Google Maps. Contact us today to learn more.
Client Profile
Searchlight designed geographic web databases for tracking and screening polluted sites around the world. These custom decision support tools are used by over 800 investigators across 70+ countries to assess toxic pollution intensity and plan strategies.